NEW BOOK OF ESSAYS:

Please click here to see the "official website" dedicated to this book.


A collection essays based on the story of my life in Japan covering 35 years published in English!

---

"Whisper of the Land"
Visions of Japan
By Edward Levinson

Introduction by Kitaro

Published by Fine Line Press, Nov. 2014
(Ready for shipping NOW!)

A5 size 168 pages, soft back, 35 black and white photographs
ISBN 9780473305758

New Publication Introductory Price: 1,600 yen ($16) (Offer good until Jan. 31, 2014)
Free shipping within Japan. Discounted International shipping $5

To Order: USE THE CONTACT FORM and you will be sent a Paypal Invoice (alternative payment methods as necessary)


---
Retail Price: 2,000 yen - $20 (shipping extra, but reasonable!)
Direct From Author Discount: 1,800 yen ($18)

Please inquire for volume discounts of 5 or more copies.

International: Pay through Paypal or check from a USA Bank.
In Japan: Pay through Paypal, Post Office, or Bank Transfer

(Signed copies available in Japan and worldwide direct from the author – with a personal inscription if requested)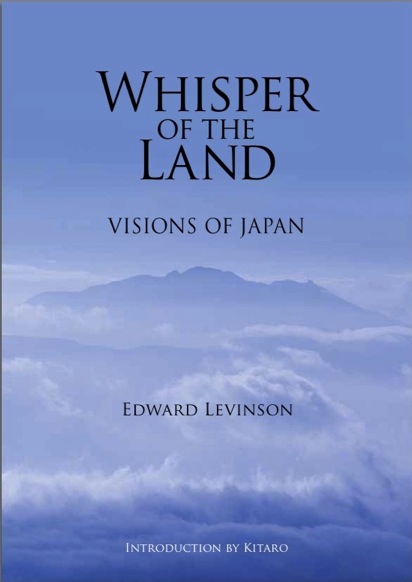 ---

About the "Whisper of the Land".........From the Back Cover

The Sun comes up
All share a peaceful moment, a timeless experience.
On that night I believe Ed-san began to really hear….
The "Whisper of the Land of Japan."
His eyes have seen, his ears have heard, his heart has opened. Edward has created a unique original picture of Japan. – Kitaro (From the Introduction)

Best known as a photographer, Edward Levinson has composed a series of essays, reflections on his life in Japan, where he has been resident for thirty-five years. These autobiographical writings offer the reader insights into day-to-day life in Tokyo and in the Japanese countryside. For Ed the camera is a bridge between heaven and earth. He explores light in two ways: literally in his photography and figuratively in prose and poetry. (From Editor's Preface)

------------------------------------------------------------------

I will always be a traveler, on the way to somewhere.

I fell in love easily. An old, but grand Japanese farmhouse, half hidden, yet half open to the surrounding country landscape, flirted with my soul.

My physical garden is the center of my universe. I spend a lot of time in it. My spiritual garden, however, is symbolically as wide as I dare to wander. The garden in the heart is not just a bridge, but a revolving door connecting the inner and outer lives…

People often ask me why I came to Japan and what its like to make a home in a different culture; it has always been difficult to tell the "long story." My life here parallels my personal journey of growth. The key to learning has always been listening, seeing, and feeling with my heart. Certain things in life are universal, others are dependent on place and time. This book encompasses both worlds.
Edward Levinson



http://www.edophoto.com/books.html
http://www.finelinepress.co.nz/edo.html

Signed copies will be available directly from me.

Order in Japan and International – Please use the CONTACT FORM

Buy through Paypal - Fill in the contact form and I will send an invoice!

New Zealand and Australia order from Fine Line Press

Book reviewer inquiries welcome!
To get the latest news Sign up for Edo Photos English Newsletter
(comes out three or four times a year)


Back cover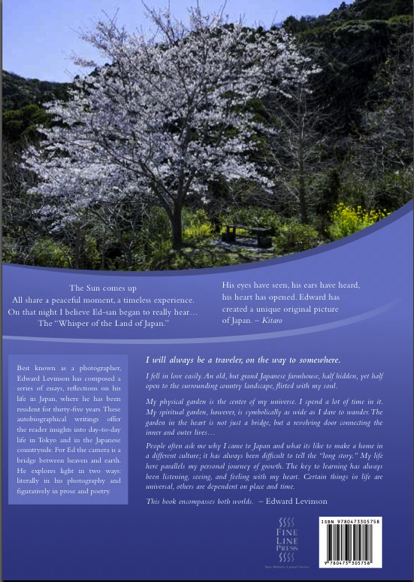 ---