写真展ご案内 - Edward Levinson Photo Exhibition Information (Info in English below)

---
ご挨拶

残暑お見舞い申し上げます。
日頃の温かいご支援ありがとうございます。
ただ今、下記の通り、写真展を開催しておりますので、ご案内いたします。
日本と外国各地で撮影した物語のある写真を集めました。
ほとんどが本展で初めて発表する作品です。6月から7月にかけて暗室に籠もり、
ネガフィルムからのプリントと取り組んできました。
これまでの展示作品よりも小さいサイズを、涼やかな雰囲気に展示しております。
お暑い中ですが、お越し下されば幸いです。                                            

エドワード・レビンソン写真展「ビジュアル・メモワール」
銀塩モノクロ・ピンホール写真28点
【会期】2014年8月1日(金)〜8月30日(土)
11:00〜19:00   日曜・月曜・祝日休館  
【会場】ギャラリー冬青
東京都中野区中央5-18-20
TEL: 03-3380-7123  FAX: 03-3380-7121
E-mail: gallery@tosei-sha.jp  http://www.tosei-sha.jp
アクセス http://www.tosei-sha.jp/TOSEI-NEW-HP/html/MAP/j_map.html
●会場への祝花はご遠慮お願いいたします。

*サイン入りの著書も販売しております。またレビンソン制作のピンホールムービーを、ギャラリーに
おいてDVDプレーヤーで流しております。
*レビンソンは期間中の毎週金曜日と土曜日にギャラリーにいる予定です。
*8/29(金)19:00時より、クロージング・パーティーを行います。どうぞご参加ください。
*直接のご連絡は メールか携帯までお願いいたします。

猛暑の中、ご自愛下さい。
2014年盛夏
                   エドフォト@ソローヒル
                   エドワード・レビンソン 

https://www.facebook.com/events/800568973310269/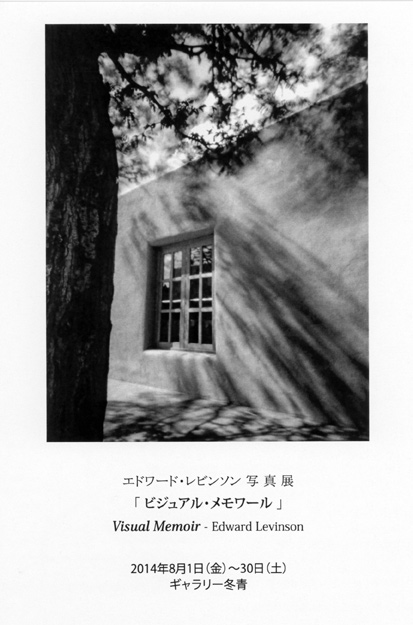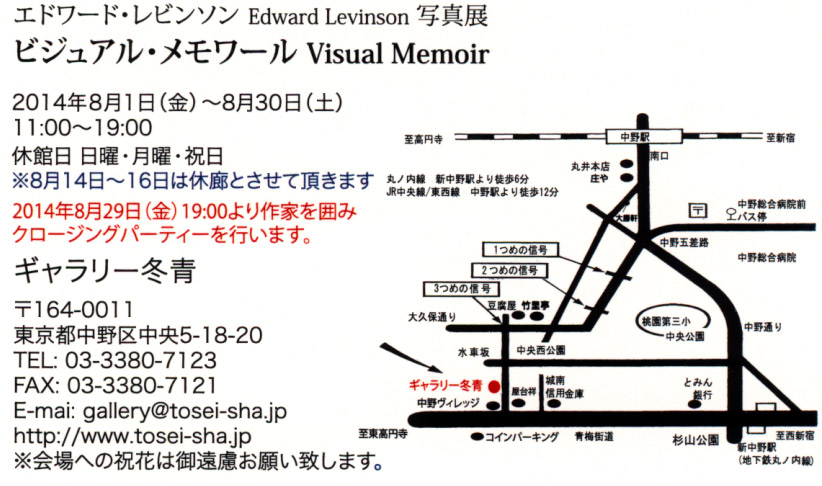 ---


PRESS RELEASE Summer 2014
                                              
Edward Levinson Photo EXHIBITION Gallery Tosei Tokyo
"Visual Memoir"
                                              
"Every picture has a story behind it. Wandering looking for images, both in Japan and abroad, I become a character in those stories."

Visual Memoir is an exhibition of a variety of pinhole photographs, each containing its own story. Most of the works have never been exhibited before. On display are 28 small size 8x10 inch black and white silver gelatin prints made from negative film. I made the prints myself in the wet darkroom expressly for this show. The images were taken around Japan, and in France, USA, and Vietnam. Please take this opportunity to see these works in the cozy venue of Tosei Gallery. The pinhole movies I made last year are also playing on a DVD player. August is a hot month, but its cool in the gallery!

Edward Levinson 2014

Duration:
Aug. 1 (Fri) – Aug. 30(Sat) 2014
Closed on Sundays, Mondays and National Holidays

Hours:
from 11 a.m. to 7 p.m.

Location:
Gallery Tosei

Address:
5-18-20 Chuo, Nakano-ku, Tokyo 164-0011 Japan
Tel : +81-(0)3-3380-7123 Fax: +81-(0)3-3380-7121
E-mail: gallery@tosei-sha.jp Gallery web: http://www.tosei-sha.jp
access http://www.tosei-sha.jp/TOSEI-NEW-HP/html-english/MAP/e_map.html

Please feel free to contact me directly via email or cell phone.
Closing Party Aug 29th from 7PM.
Prints are for sale as well as Signed copies of my books.