エドワード・レビンソン写真展 2017

東京写真月間の国内展による:
日本に在住する4人外国人が見た日本の自然と文化 ―そのうちの
エドワード・レビンソン写真展「タイムスケープス・ジャパン」
5/26(金)~5/31(水) 11:00~19:00(最終日15:00・木曜休館)
所:オリンパスギャラリー東京新宿


この写真展では、ギャラリー未発表のモノクロームピンホール写真を展示致します。内容は、東京写真月間のテーマに合わせて選んだ約
40
点です。新しいピンホールムービー上映する予定です。知
6
日間の展示ですので、ぜひご予定に入れておいて下さい。新しいフォトブックを発行しますので、お楽しみに。
レビンソンは全日会場で、皆様のご来場をお待ちしています。


Same Exhibition Event Info on Facebook, please share!
https://www.facebook.com/events/1633264153359334/
オリンパスギャラリー東京アクセスリンクです!
オリンパスギャラリー東京
西新宿
1-24-1
エステック情報ビル
B1F

---
Edward Levinson Photo Exhibition

"Timescapes Japan"
May 26 - May 31 at Olympus Gallery in Shinjuku Tokyo. Hours: 11am to 7pm (until 3pm last day)
(One week only so be sure to mark your calendar!)


This exhibition is organized by The Photographic Society of Japan (PSJ) as part of The Month of Photography in Tokyo 2017. The theme for this year's photographers in Japan series is "Foreign Photographers Living in and Loving Japan - Japanese Landscapes and Culture"

I am showing about 40 prints from various series in a solo exhibition at the Olympus Gallery in Shinjuku. All the works are being show for the first time on gallery walls. Works from my newest series will also be shown for the first time, as well a new pinhole short movie. I am also publishing new small photo book for the occasion.
I plan to be at the gallery everyday, so for those in Tokyo, I hope to see you there.
Olympus Gallery access map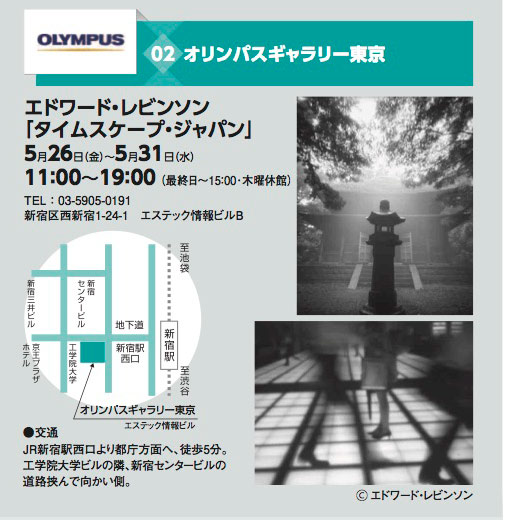 オリンパスギャラリーサイト Olympus Japanese Website
Olympus Gallery access map

東京写真月間 こちらへ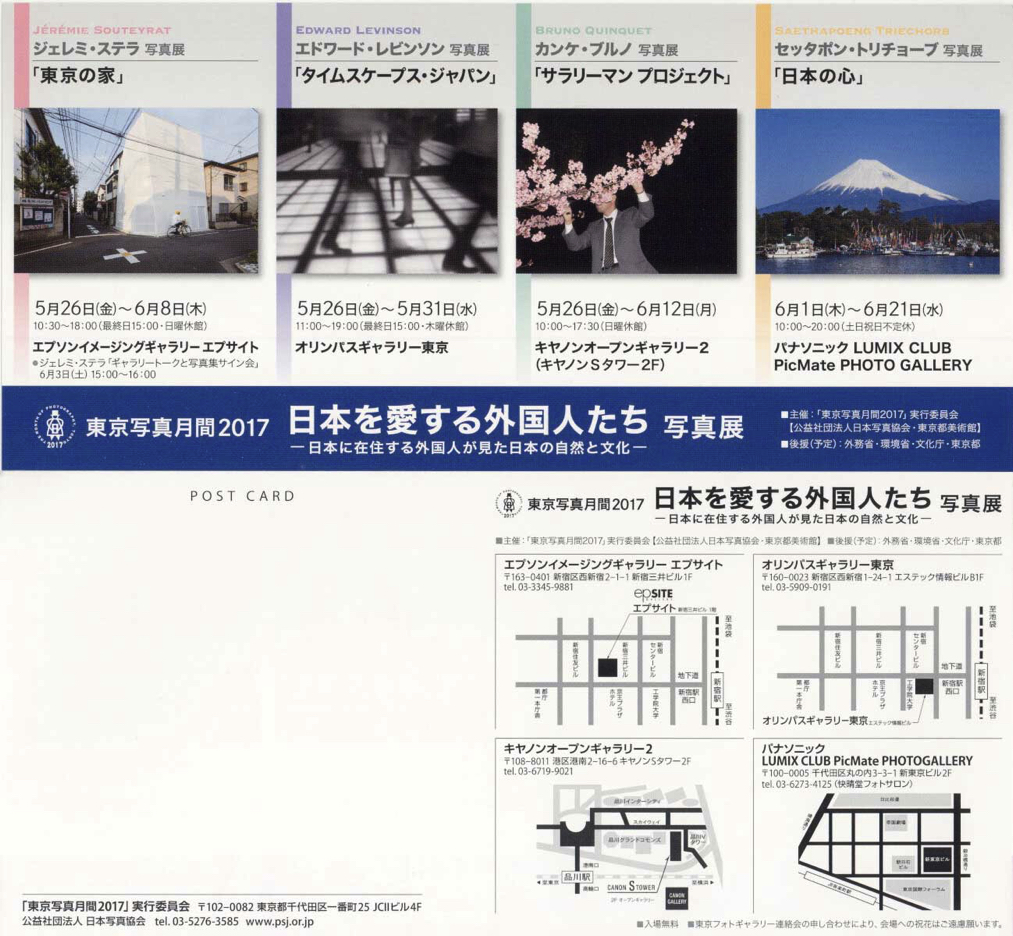 ニュースページに戻る  Return to News Page